Dr. Greg Milo Bosshardt, M.S., D.C.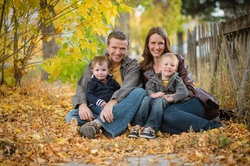 Dr. Greg Bosshardt
is a chiropractic physician based in Ephraim, UT. He is a primary care physician trained in a variety of adjusting techniques, as well as many soft-tissue and rehabilitative therapies to help meet patients' diverse needs. In addition to running Skyline Family Chiropractic, he is an Assistant Professor of Human Anatomy and Human Biology at Snow College, the assistant cross country coach at Manti High School and is trained as an EMT. Prior to opening in Ephraim, Dr. Bosshardt worked with an Amish community outside of St. Louis, MO.
Dr. Bosshard
t is a proud alumnus of Logan College of Chiropractic in St. Louis where he received his Master of Science in Sports Science and Rehabilitation and his Doctor of Chiropractic degrees.
In September 2014 he accompanied Dr. Sheila Laws, D.C. to
San Lorenzo de El Escorial
outside of Madrid, Spain to present the Receptor-Tonus Technique at Real Centro Universitario Maria Cristina. In November 2013 he assisted Dr. Sheila Laws, D.C. in presenting at an international chiropractic conference at Feevale University in Brazil. During the course of his extensive training Dr. Bosshardt had the opportunity to present at an international chiropractic conference in Stockholm, Sweeden in 2011. He also had many experiences working with High School and Collegiate athletes, including an internship with Jefferson College's Women's Basketball Team, accompanying and treating them at the NJCAA tournament in March 2012.
Dr. Bosshardt
grew up in Redmond, UT and met his wife Heather at Snow College. They were married in Manti and they have three sons, Alexander, Luke and William.
In his free time
, Dr. Bosshardt enjoys spending time with his family, playing the piano and the banjo, cooking and doing just about everything in the mountains from hiking, rappelling, rock climbing, cross country skiing to fishing and shooting.
---